Warehousing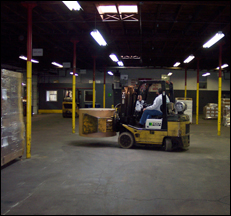 We offer over 50,000 square feet of dry storage at our Beverly, NJ warehouse with an additional 50,000 square feet in Pennsauken, NJ. Our warehouses are conveniently located just minutes from the PA Turnpike, NJ Turnpike and the I95 interstate.
We feature a number of warehousing services including 50" roll-clamp, which is primarily used for safely moving and loading large paper rolls for the printing industry. Our warehouses are well staffed with forklift operators and warehousing specialists.
Fulfillment Services
We offer fulfillment services for companies who wish to store and distribute products directly from our warehouses in a pick and pack style situation. Give us a call and let us consult you on how to make the most of your distribution program.