Our Company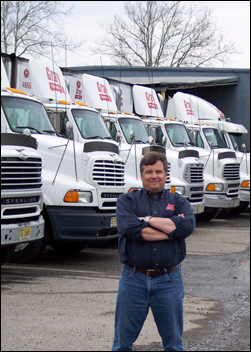 It has been said "The more things change, the more they stay the same." At Gray Trucking, after 60 years in business we are proud to agree. Our company was founded by Robert "Pop" Gray in 1946, on the principal that you should always make an honest promise, and always deliver on what you have promised. Today, Gray Trucking still lives by that philosophy.
Critics may call us "old-fashioned" in our beliefs, but it is through a commitment to our principles that we have grown and modernized to the point we are at today.
We have mastered the details that are important to be successful in the trucking industry…meeting deadlines, careful handling of goods, keeping promises, safety…always striving to exceed our customers expectations of service.
Although our business has grown, we are still the same family owned and operated company that was started following WWII. Three generations of Grays have proudly worked in, and cultivated this business and its employees. Over the years, we have hired and retained drivers who share our values and commitments. They are not only our employees, they are also part of our family, but they don't work for us, they work for our valued customers. As professionals in their field, they carefully handle your freight as if it was their own.
We wish to thank our customers and employees for 60+ years of success.
We look forward to the next 60.